Pepople Of Jasikovo - Jasikovcani U Belom Svetu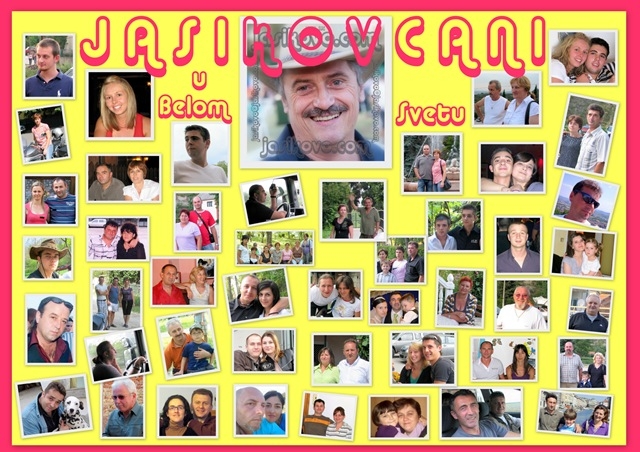 Dear citizens of Jasikovo. From the very beginning of the Jasikovo site, I had the desire to show all the people of Jasikovo who are far from our birthplace in this area. Due to time and space, for now I can only post your pictures and the text you want on this page.
You need to send pictures to my email and what they would like to be written about you.
It may be a little slower to send this way, especially for a larger number of photos, but for a start it can be a smaller number of photos and later it is possible to add them to the same album. It is much easier to make links and send them to my email, only for that I am not sure that anyone can do it.
Send images in the highest possible resolution for better quality.
My email address: jasikovo@jasikovo.com
I will be glad if you decide to post your photos on Jasikivo site.
The site has an average of about 60 visitors a day from currently 49 countries.
Greetings to all the people of Jasikovo around the world.
---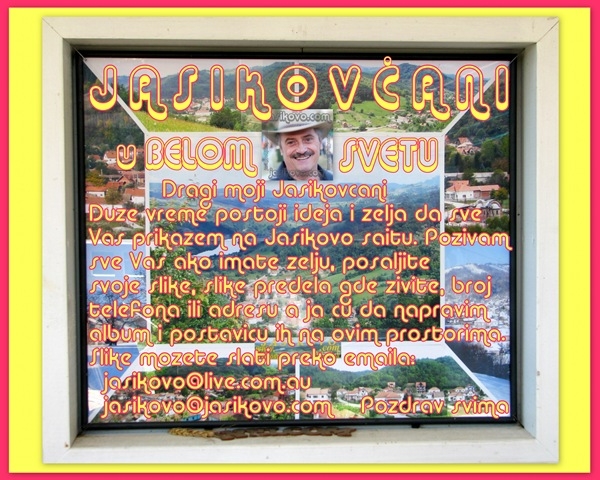 Postovani i dragi moji Jasikovcani.Od samog pocetka Jasikovo saita imao sam zelju da sve Jasikovcane koji su daleko od naseg rodnog mesta prikazem na ovim prostorima. Zbog vermena i prostora za sada mogu samo na ovakav nacin, da postavim na ovoj stranici Vase slike i tekst koji budete Vi zeleli.
Potrebno je da posaljete slike na moj imeil i sta bi voleli da se napise o Vama.
Bice mozda malo sporije slati na ovakav nacin posebno za vecu kolicinu fotosa, ali za pocetak moze i manji broj fotosa a kasnije moguce je da se dodaju u isti album. Mnogo lakse je da se naprave linkovi i posalje na moj imeil, samo za to nisam siguran da moze svako da uradi.Ima jos jedna mogucnost, da se usnime na dvd ili cd i posalju postom (kostace par evra).
Saljite slike u sto je moguce vecoj rezoluciji zbog boljeg kvaliteta.
Moja email adresa: jasikovo@jasikovo.com
Bice mi drago ako se budete odlucili da svoje fotose postavimo na Jasikivo sait.
Sait ima dnevno u proseku oko 60 posetilaca iz trenutno 49 zemalja.
Pozdrav svim JASIKOVCANIMA sirom sveta.